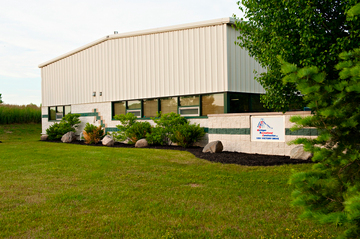 LATEST NEWS
---
NEW LOCATION
NEW shop location in Detroit, Michigan!

Stay tuned for more details!
Add more FUN to your playground with a Coach Cliff Gaga Ball Pit!
GaGa Ball Pits are the latest and greatest play event for your playground. GaGa Ball Pits are solid, durable and long lasting. It is a game for all ages and abilities.

Call us today for quote!
More News
MICHIGAN RECREATIONAL CONSTRUCTION, INC.
Michigan Recreational Construction, Inc. (MRCI) is a leading provider of commercial playground construction in Michigan and surrounding states. We specialize in commercial park and playground construction, as well as all related site development services. Since 1998, we have completed over 3000 playground projects, 20 splash pads, 150 fabric shade structures and 60 shelters and pavilions around the US. Our ability to meet stringent requirements has allowed us to provide our construction services to more than 20 Child Development Centers on US military bases. Our experienced team at MRCI would love to help build your next project!
Our Construction Services...
Commercial & Custom Playground Construction

Installation of Pavilions, Shelters and Site Amenities

Installation of Play Equipment, Site Furnishings & Athletic Equipment

Water Park "Splash Pad" Installation

Skate Park Installation

Dug-Outs and Kiosks

Comfort Stations, Pump Houses and Storage Sheds

Playground Maintenance

Safety Inspections

Painted Games & Maps



Our Site Development Services...
Land Clearing, Excavation and Drainage

Concrete and Safety Surfacing

Athletic Fields

Site Restoration

Our Credentials...
Recognized by the International Playground Contractors Association (NPCAI) as a Qualified Playground Constructor

Eight Certified Playground Safety Inspectors (CPSI) on staff

Bonded, insured and registered as a contractor in numerous cities throughout Michigan, Indiana and Ohio

Safety is our priority. Our Field Operations manager, Supervisor and Project Supervisors have completed 30 hours of OSHA construction training and First Aid training. All personnel are trained through the MRCI Build Safe Program.

Manufacturer certified to construct and install products for Gametime, Kompan, Inc., Landscape Structures, Inc., Little Tikes, Lowe's and Water Odyssey

A skilled constructor for products from Playworld, Miracle, Kaplan, Water Play, Rain Drop, Cedar Forest, Coverworx, Icon, Poligon, USA Shade, Shade Systems, Bison, Inc., Kay Park, Wabash, DuMor and many others

Provided all services for the one-of-a-kind playground at the Henry Ford Greenfield Village.

Our Guarantee...
It is our mission to provide the highest quality workmanship and service to our customers. Your satisfaction is our top priority.

We stand behind our work! Michigan Recreational Construction, Inc. provides a 1-3-year warranty on workmanship for all playground construction services we provide.

Our Motto...
Work hard - Be Honest - Never Cut Corners
Especially when it involves Kid Safety!

Michigan Recreational Construction, Inc.
Detroit Location:
18631 Conant
Detroit, MI 48234
Howell Location:
1091 Victory Drive
Howell, MI 48843
Certification




More about certifications
"It is a happy talent to know how to play."
-- Ralph Waldo Emerson